Condolences to the Montague Koyle family
We are saddened to announce the death of The Rev. Iris Montague, mother of The Rev. Susan Montague Koyle (Parish of St. Joseph and St. George) on September 10th at home surrounded by family.  Her son-in-law, The Ven. Dr. Jay Koyle, has shared the following within the diocesan circles:
In Loving Memory of The Rev. Iris Janet Montague (née Robertson) 
1947-2022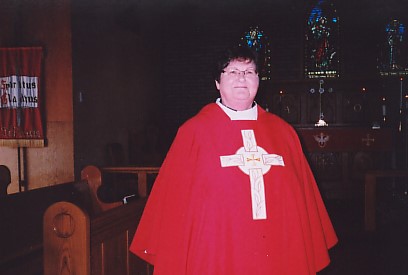 The family announces with great sorrow her peaceful passing at home surrounded by family.
Beloved wife of Don, and loving mother of The Rev. Susan Montague-Koyle (The Ven. Dr. Jay Koyle). Cherished grandmother of Stephen & Kevin Wells. She will be sorely missed by her brother Ian (Judy) Robertson, by her many nieces & nephews, and her other relatives and friends.
She was predeceased by her son Stephen (1986), and by her parents John & Gladys Robertson.
Iris was born in Preston Pans, Scotland, and came to the Porcupine area in Canada when she was ten years old.  She ended her life as a presbyter in The Anglican Church of Canada and this had truly been a calling fulfilled. Working for the Church, spreading the good news of God's kingdom, teaching, presiding at worship, and most especially providing pastoral care were her passion. She continued supporting pastorally all those in need who came into contact with her even during the last months of her life. From her beginnings as a Lay Reader at St. Paul's, South Porcupine, through to her ordination to the priesthood, she loved her vocation in the Church. She served as Assistant Curate in Moose Factory, Priest-in-Charge in Moosonee and Mistissini, and then Interim Incumbent of St. Paul's Church, South Porcupine.
Before dedicating her life to God's mission through the work of the Church, her gifts had found expression in other endeavours. She was a Past Matron of the Order of the Eastern Star and spent many years in various leadership positions in the Brownies and Girl Guides of Canada.
The family sends a very special thank you to Dr. Vaithilingam & Staff for all the kindness and care throughout her years. Thank you also to the compassionate care partners who provided comfort and support during Rev. Iris's illness, particularly The Rev. Judie Cooper.
Donations to the Timmins Humane Society, The Diocese of Algoma – Episcopal Endowment Fund, or The Diocese of Moosonee – Suffragan Bishop Endowment Fund will be gratefully acknowledged by the family.
A Memorial Service to honour The Rev. Iris Montague will be held at 10:00 a.m. on Saturday September 24th, 2022 at St. Matthew's Cathedral, 331 Fifth Avenue, Timmins, Ontario, The Most Rev. Anne Germond, Archbishop of Algoma and Moosonee, and Metropolitan of Ontario presiding.
Arrangements entrusted to Stinson Funeral Home, 100 Bruce Avenue, South Porcupine, ON, P0N 1H0 (705) 235- 2900   www.stinsonfuneralhome.net
We offer our condolences to her family and uphold them in prayer as they prepare to celebrate a life well lived.