Further memories of a cherished lady – Muriel Hankinson
As news of Muriel's death has been making its way across Algoma, folks have written to share some fond memories of a lady deeply cherished.
MURIEL HANKINSON…
A MOST GRACIOUS LADY
In all the years I knew Muriel Hankinson, even in her difficult days that came along with increasing age and health concerns, she was by far one of the most gracious people I have known. She lived up to her standards learned from childhood and was sometimes concerned and disgruntled when she observed others who seemed to disregard them.
Muriel emigrated to Canada on her own as a young woman, convincing her parents that she wanted to see Canada only for a short time and would return home before long. She landed in Toronto and found employment. Being a faithful Christian she attended St. Thomas' Church, Huron Street. While there she met a Sister of one of the Church's religious orders who shared with Muriel the ministry of Miss Haskell's "Van Girls", who ministered to the isolated and poor farmers in western Canada. Muriel was hooked and immediately volunteered. With no more than a dime in her purse Muriel began a much loved ministry as a van girl which brought her into numerous homes, churches and group settings where she relished in proclaiming the Gospel to her eager and interested hearers.
Years later, Muriel could keep people in stitches as she regaled them with stories of her early missionary life and especially her meeting her future husband, Michael. In spite of the humour related in her early experiences as the new Rector's wife in small prairie villages, Muriel's high standards were often in conflict with the humble surroundings and parish life. I always remember the story of her (following instructions) on how to clean off the odour from the front of their car after they had hit a skunk. Covered in dirty water and tomato juice was the exact afternoon when the ladies of the parish decided to host a surprise welcoming tea party for her. She was so embarrassed! I always tried to suggest that Muriel allow her stories to be recorded and a book be created of their early ministry, but she never saw any of it as being worthy.
As a young couple, their son, Christopher, came along which filled their life in a whole new way. Eventually, Father Michael was invited to the Diocese of Algoma as Incumbent at St. John's Church, Garden River. Muriel's standards and experience as a Missionary was an immense help to Michael as they ministered in the small Indigenous community. Muriel continued her own ministry with Michael as they moved on to Blind River then Sudbury's Church of the Ascension, Skead and Garson. Throughout Michael's ministry, Muriel enjoyed her own leadership and especially spoke highly for years of her role as President of Algoma's Anglican Church Women. In retirement, they became active leaders at Christ Church, Lively until it became too difficult to drive from their home in Garson through to the other side of Sudbury as old age was making it a rather hazardous trip!
As Rector of the Church of the Epiphany, I invited the Hankinsons to join us and Michael became our highly respected Honorary Assistant and both became much loved friends to everyone. I could write my own stories of my experiences with Muriel as her friend and Rector for they are legion, and often very funny! One memory I have was on a Pentecost Sunday morning. I enjoyed filling the chancel with coloured balloons and always made it a point to include the children in singing "Happy Birthday to us". On one occasion, I included noise-makers and Juice-harps and as I had more than we had children, I handed the noisemakers out to some of the congregation, including Muriel. I am afraid Muriel was not all that impressed and simply said "Oh dear, Father, really?" The congregation laughed heartily! In her older years Muriel often forgot her hearing aids which would become a problem, especially if I shared a funny story or a joke in my sermon. Often at the church door Muriel would say that she wondered why the congregation was laughing. When I responded that I had said something they found humorous she would ask me to repeat the joke to her at the door. That never worked!
Eventually, Muriel and Michael became too insecure and elderly to remain living on their own and son, Chris, made arrangements to move them closer to him in London and Dorchester. It was a wise and caring decision for Chris, but not an easy one as Muriel especially did not want to leave her friends in Sudbury. To be sure, so many of us have missed both of them. We were so sorry not to be able to share in Father Michael's funeral during the pandemic a few short months ago.
Just a few weeks ago Muriel left this world, "full of years" to see her Jesus face to face and to be with her beloved Michael, I am sure. We have so many memories of a gracious, loving lady who lived and taught her simple, loving faith. "Well done, good and faithful servant…"
The Rt. Rev. Thomas A. Corston
Bishop of Moosonee (Ret'd)
Sudbury
I don't think I have to look too deeply into my photo boxes to find a photo of Muriel Hankinson. The church albums at St Saviour's are also a treasure trove of her time with Rev Michael during their time in the parish. However, I was young when we moved to Blind River and my memories are more of the relationship between Muriel and my mother. They lived in the rectory on one side of the church, and we lived 2 doors away, around the corner on the other side of the church and from our back door to the back door of the rectory was a well-worn path. That was the path that my mother took when the calls came " Pauline, Christopher has a very high fever, what should I do?" "Pauline, Christopher has fallen and is bleeding, can you come?" Being the neighbourhood nurse my mother without hesitation would be on her way to put Muriel's fears to rest. The path however was just not for the times of crisis but also for the many shared cups of tea that she and my mother shared.
The last time I saw Muriel was at a celebration in Sudbury. She had been in touch with me prior to the celebration to ensure that I was coming and seemed oddly relieved when told her I would be there. After dinner that evening when things began to quiet down, she asked me to come and sit. From under the table, she carefully pulled out a bag overflowing with tissue paper and told me to be careful as the contents were breakable. I carefully unwrapped the tissue to find a beautiful and indeed fragile teacup. Muriel went on to tell me that it had been a gift from my mother (Pauline) to her when they lived in Blind River. She continued on to tell me about their friendship and the many cups of tea they had shared. In my mind I can still clearly see the two of them, women of deep faith, spontaneous, lighthearted one moment, and extremely serious the next, solving everything from family annoyances, parish aggravations and likely global affairs with a dash of irreverence and laughter, much laughter, over a cup of tea. Muriel thought it was now time that the teacup was intrusted to me. She had kept that teacup through countless decades, a cherished gift, a reminder of a friendship along the way. To many it would just appear to be a very fragile teacup but to me it's so much more. It's a lovely reminder of two incredible women, friends along the way.  A teacup, that when I hold it in my hands, close my eyes and listen I can hear their voices, their laughter, their long pauses.  Oh if only this  teacup could talk!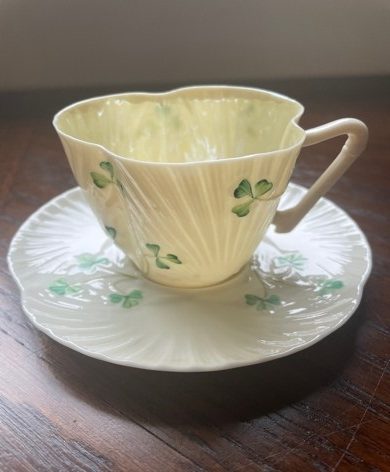 The Venerable Roberta Wilson-Garrett, Archdeacon of Algoma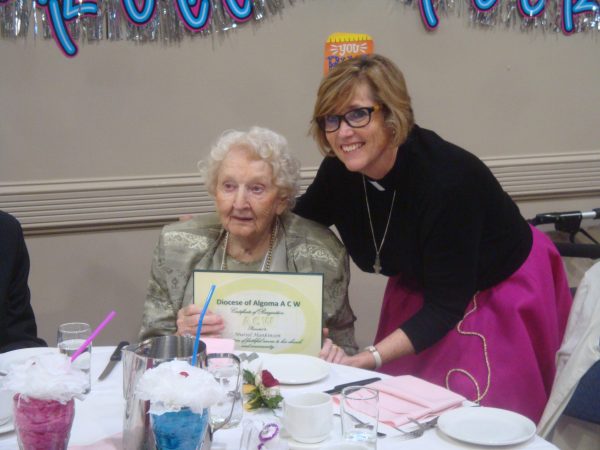 Muriel Hankinson will be remembered by the Anglican Church Women of the Diocese of Algoma for her joyful presence and her dedication to the work of the ACW. Muriel was a member of the group at the Church of the Ascension in Sudbury for many years while Michael served there and kept involved wherever their ministry took them. From 1982 until 1985 she served as the Diocesan ACW President.
Muriel was an avid knitter but would occasionally have to call on Betty McLeod to come and help her with a snag in her work. I am sure that many of her creations were found on the Margaret Wright Table at the ACW Annual. The 2016 Annual held in Sudbury was the last that Muriel and Michael attended. As always they arrived hand in hand and full of smiles and warmth. The Deanery of Sudbury-Manitoulin ladies honoured her with the ACW Certificate of Recognition. The Archdeacon at that time, Anne Germond, presented the plaque to Muriel at the banquet. Muriel was delighted to receive this tribute from her sisters in the Deanery. The plaque reads: "presented in recognition of faithful service to her church and community". Muriel lived her faith responding to the needs of others with love.
We shall miss the presence of our dear sister in Christ, Muriel Hankinson. As we mourn the passing of our friend, let us lift up hearts full of thanksgiving for a life well-lived and for work well done. Let us humbly pray that we may be given grace and strength and wisdom to enable us to perform our duty in the pathway of life's service. We shall miss her presence and so for now, we say "Farewell", believing that the time will come when we once more say, "Hello".
Janet Pike, Diocese of Algoma ACW President
It is very difficult to write a memory of Muriel without including Rev. Canon Michael. They were meshed together in love and life.
I had the honor of traveling to the Sault for Synod in the early 90's. Father Michael was behind the wheel and Muriel was his personal GPS.
Oh, how I enjoyed them both chattering back and forth entertaining me with their life stories. Each little town sparked another treasured memory.
I soon found out that Father Michael could not talk and drive at the same time. Muriel was quick to advise him of his mistakes and he would just pipe in to finish off her story.  He frequently took his eyes off the road and his foot off the gas to share his thoughts. Muriel would once again voice her concerns about Canon Michael's driving skills. He replied with a "yes dear ". Honking horns and not so nice hand jesters did not deter them of having a fun leisurely trip.
We did arrive at our destination in the Sault, thanks to Muriel telling Michael where to go, when to turn and where to park.
The Algoma clergy, their partners and staff quickly embraced Muriel and Canon Michael with warm hugs and loving smiles.  Muriel delighted in the warm welcomes while Canon Michael did what he did best; stand beside his wife with love in his eyes and a smile. 
Heaven's gates are opened wide, Muriel is again at Michael's side.
Wendy Schroeder of Naughton Ontario
It is very apparent that Muriel's life, faith, and service touched many lives and she will be deeply missed.