Condolences to the Hankinson family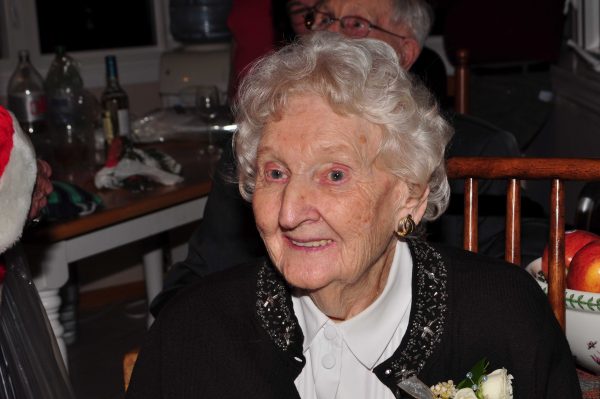 It is with sadness we share the news that Mrs. Muriel Hankinson, dear wife of Canon Michael Hankinson, died peacefully last evening in her 101st year in London, Ontario. Muriel died with her son Chris and daughter in law Gail by her side.
There will be a memorial service of thanksgiving for Canon Michael and Muriel Hankinson in Sudbury later on, once gathering restrictions have been lifted.
We offer our deepest sympathies to the Hankinson family in this time of loss and sorrow, and assure them of our prayerful support and love.
Muriel has been in failing health for some time which has been most difficult for her and for her family.  We mourn her death and the loss of one who gave so much in service of the church throughout her life.
Muriel was a life member of the WA and the Anglican Church Women, always enjoying the ACW Annual meetings and leading the devotions at the monthly parish meetings.
Muriel's great passion was sharing the good news of Jesus which she did with joy – delighting in each opportunity given to her.  Many of us remember her as a great raconteur of ministry moments.  These stories ranging from Bishop's visits to encounters with friends were told with Muriel's inimitable sense of humour. How we wish we had a record of them!
"Almighty and everlasting God, with whom still live the spirits of those who die in the lord, and with whom the souls of the faithful are in joy and felicity: we give you heartfelt thanks for the good example of your servant Muriel, who, having finished her course in faith, now finds rest rest and refreshment. May we, with all who have died in the true faith of your holy name, have perfect fulfillment and bliss in your eternal and everlasting glory, through Jesus Christ our Lord. Amen." (BAS page 601)
Cards of condolences may be sent to Chris and Gail Hankinson at:  43 Mill Road, Dorchester, ON  N0L 1G2
Donations to the Hankinson bursary, in honour of Canon Michael and Muriel may be made to:
Diocese of Algoma, 619 Wellington Street East, Sault Ste. Marie, ON  P6A 2M6  memo line Hankinson bursary
Below is a fulsome statement from Bishop Stephen and Fawna Andrews.  Also, Archdeacon Joan Locke remembers fondly a special experience with Muriel during an ACW Annual.
On the Feast of the Nativity of John the Baptist 2021 and three months into her 101st year, Muriel Hankinson fell asleep in Jesus. She went into hospital in London, Ontario, at the end of May with cardiac issues, but by the end of the month her doctors moved her into the palliative care ward. It was there that she was lovingly attended to by her son, Christopher, and his wife Gail, until the Lord called her home.
After 52 years' ministry in the Diocese of Algoma, Muriel and her husband, Michael moved to London in 2017 to be closer in to Chris and Gail. Unfortunately, the move was complicated by Michael's illness which prevented him from relocating with her. He was eventually transferred to a hospital in London, but in the period between their move and Michael's death in September 2020, Muriel and he were not able to live together. However, Chris and Gail were dutiful in arranging for them to see each other regularly, and they received the ministry of The Reverend Lyn Fisher, whom they had known at their church in Sudbury and who eventually presided at Michael's funeral.
Muriel was the embodiment of the faithful clergyman's wife in her generation. Devoted and protective of her husband and heavily involved in the life of the parish, she was a repository of stories of what it was like to raise a family in small towns in the Prairies and northern Ontario. In their retirement years she could regale a crowd with accounts of her life in the Canadian Sunday School Caravan Mission, a Prairie ministry that brought a number of devout Anglican young women like her from England. It was in Saskatchewan that she met the young priest, Michael Hankinson and where Christopher was born. In 1964, they came to Algoma and served in a variety of parishes, from the Indigenous community in Garden River to the Church of the Ascension in Sudbury. Ever the gracious hostess, Muriel's entertaining stories included encounters with wildlife and prelates.
Many will remember and rehearse these stories (she was regularly told that she should write a book!), but what Fawna and I treasure in our memories of her is the way that so many of her stories would end with tears streaming down her cheeks. They were occasionally tears of laughter, but more often they were tears of gratitude at the blessedness of her life.
I sometimes imagine the world as being held aloft by the soul's yearning for heaven, and that when a soul is untethered from the earth there is a tremor that passes through the earth in the way that a spider's web is altered by the breaking of a strand. Our world is different with the passing of Muriel Hankinson. In a not insignificant way, it is just a little less colourful and a little less kind. As we give thanks for her life and pray for comfort for her family and friends, we also pray that God would plant within his Church others with her zest for life and passion for our Lord.
+Stephen & Fawna
When I was a young teenager, 13 or 14, the ACW Annual was held in Haileybury and Muriel was billeted at the Rectory.  It was custom then to hold the ACW Executive meeting the night before it started.  My mom was hosting and Muriel was not on the Executive.  It was my job to entertain her upstairs. 🙂. I had a 13" black and white television in my room.  I have a vivid memory of Muriel sitting on my spare bed with her feet out in front of her, knitting with her feet dancing away as she sang 'If I Were a Rich Man'! ☺️  It entertained me at the time but now it's a fond memory.  RIP indeed.
Archdeacon Joan Locke
Further "memories" will be shared next week should anyone wish to submit a special remembrance of Muriel.