FANTASTIC!! Algoma's Team Says Yes to Kids and surpasses second goal!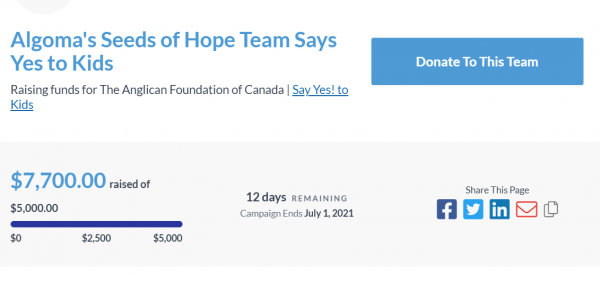 Thrilled to announce today that we have surpassed our SECOND goal of $7500 in our Say YES to Kids campaign with The Anglican Foundation.  Do we dare reach for another goal??  Can we hit $10,000?  We have 12 days left.  Let's dig in folks and raise the challenge to our Diocese.
Visit our page to donate and watch our progress!
ALGOMA'S SEEDS OF HOPE TEAM SAYS YES TO KIDS – JOIN YOUR FRIENDS ACROSS THE DIOCESE (and beyond) IN SUPPORTING THIS WORTHWHILE CAUSE!  SHARE SHARE SHARE…SOCIAL MEDIA WAS INVENTED FOR THIS REASON!