Algoma mourns the loss of one of our own – The Rev. Joan Morris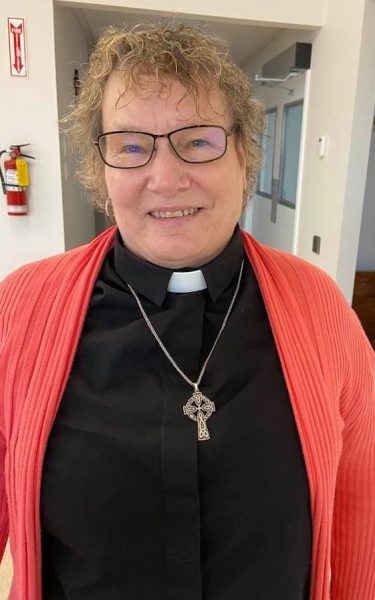 We share with the people of Algoma the shocking news of the sudden death of The Rev. Joan Morris. Yesterday, Thursday, November 12, after feeling very unwell, Joan suffered a fatal heart attack in North Bay Regional Hospital. The Rev. Beth Hewson was with her throughout the ordeal, offering prayers and support. Joan died with words of prayer on her lips and in her heart.
Joan began her ministry in the Diocese in July of 2018 as Lay Incumbent of Trillium Anglican Parish (Callander, Powassan, and Restoule) in Temiskaming Deanery after many years of work in the banking sector as a financial planner and advisor. She left her career to pursue theological studies at Wycliffe College. She was ordained to the Sacred Order of Deacons in September of this year and made Deacon Incumbent of the parish at that time.
Joan was known for her deep commitment to prayer and love for engaging people in scriptural reflection. She established in her parish a pattern of gathering people at the start of the day from Tuesday to Friday each week for Morning Prayer and a time of conversation about the Bible readings of the day.
After receiving word that Joan's closest family members had been informed, Archdeacons Joan Locke and Linda White traveled to Trillium parish this morning to inform the wardens of Joan's death and to offer prayers with them. Archbishop Anne will be in the parish this weekend, and she and Archdeacon Joan will be present in worship with them at all liturgies.
Joan leaves behind, to miss and mourn her, three children – Nancy Moses, Patrick Boulton and Kendra Harris, and their families. She has three sisters and many other family members. They are all devastated by this news, which was totally unexpected. Please pray for her children as they travel to North Bay today, and as they grieve over the time ahead.
The full obituary may be found here
"Almighty God, Father of mercies and giver of comfort, deal graciously, we pray, with all who mourn; that casting all their care on you, they may know the consolation of your love, through Jesus Christ our Lord."  Amen.