The Rev. Gordon Holroyd returns to St. Paul's, Thunder Bay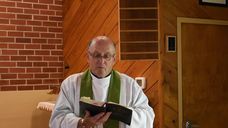 After being called to serve in other parishes in the Deanery of Thunder Bay-North Shore over the past 8 years, Fr. Gordon has returned to St. Paul's.  His return will commence on November 15, 2020 and we welcome him back with open arms.
Fr. Gordon was licensed as an Honorary Assistant to St. Paul's in 2005 and that licence has remained while he has been called to serve as an interim incumbent in other parishes.  In 2012, Fr. Gordon went to St. Luke's, in 2014 to St. George's, in 2016 to both St. Michael's and St. George's, and in 2018 to West Thunder Bay.
In recognition that his licence stands as the Honorary Assistant for St. Paul's and in anticipation of his return, his name has remained on the church signs as well as on the Diocesan Cycle of Prayer for St. Paul's.
We celebrate Fr. Gordon's servant heart and his desire to serve the Lord wherever he is called.  He will join the clergy team of Anne Carr, Deacon Associate, and Deborah Kraft, incumbent.