Tribute to the Rev. Canon Michael Hankinson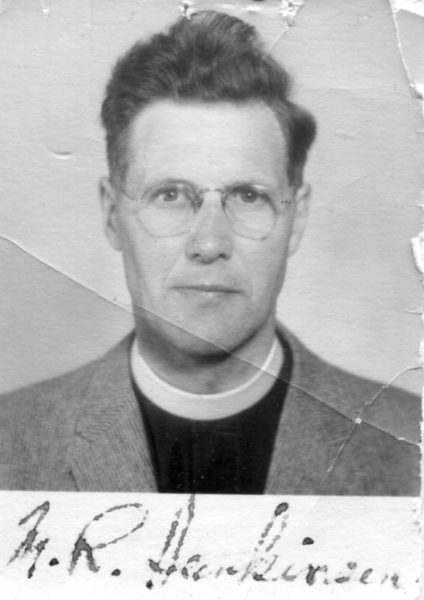 A Tribute to the Rev. Canon Michael Roderic Hankinson
(June 9th, 1920 – September 3rd, 2020)
The Rev. Canon Michael Hankinson died as he had lived, peacefully and quietly in the presence of his loving family, son Chris and daughter in law Gail. As news of his death passed through the Anglican Church of Canada airwaves so did expressions of sympathy, remembrance and deep gratitude for his life and ministry in our church.  He is one of whom Jesus could truly say, "Well done, good and faithful servant: enter thou into the joy of the Lord." (Matthew 25.23)
Canon Michael moved to Canada from England with his family when he was but six years old and lived for some years in Penzance Saskatchewan. Experiencing a call to ordained ministry he moved to Manitoba where he attended St. John's College in Winnipeg. The 2nd World War interrupted those studies, but Canon Michael returned to them in 1945 and graduated with a B.A. in 1945 and with an L.Th. in 1951.  In May of that year he was ordained a deacon by the Bishop of Calgary and priested five years later by the Bishop of Qu'Appelle.
Canon Michael's first charge was at the Parish of St. Helen's in Fairford, Rupert's Land where he served for three years before moving on to be the Assistant at St. John's Church in Moose Jaw Saskatchewan in the Diocese of Qu'Appelle.
This is where Canon Michael met his wife, Muriel, marrying in 1955.  Their unity and devotion to one another would be lived out over the next 65 years as they became a ministry team, serving the congregations in a way that always brought out the best in the other. Muriel was the chatty and welcoming hostess, opening the doors of their rectories for meetings and social events, while Canon Michael went about the quiet work of ministry as he led many to become a follower of Jesus teaching them about God's great love for them in a way that was both accessible and real. After their marriage, Canon Michael served in Rock Glen and Cabri Qu'Appelle until 1964.  They welcomed their son, Christopher, into their family in 1961.
The Diocese of Algoma called to them in 1964 and is where they remained until they retired from active ministry, establishing deep roots in the parishes they served and enduring friendships.
Canon Michael's first charge in Algoma was in Garden River where he served until 1970, then moving on to Blind River and Massey until 1975.  Bishop Peterson appointed Canon Michael Rector of the Church of the Ascension in Sudbury, along with St. Mark's Garson, and the Church of the Good Shepherd on Skead Road, until he retired in 1987.
In his retirement Canon Michael ministered at St. James Goulais River and at St. Mark's Heyden in Algoma Deanery. In 1990, he and Muriel moved back to Sudbury where they purchased a home in Garson. Canon Michael was appointed the Honourary Assistant at Christ Church in Lively, and when they moved to downtown Sudbury the Honourary Assistant at the Church of the Epiphany. He was made an Honourary Canon of St. Luke's Cathedral in October 2009, an honour he received with humility and joy.
It was during his retirement years that I came to know Canon Michael quite well. Even though there was no obligation to attend the monthly clericus meetings, Canon Michael never missed one of them, arriving with a packed lunch, wearing his clericals, and with many a word of wisdom to offer the group.  He once gave me this word of advice which I have never forgotten and often used, "If you are to err," he said, "Err on the side of grace."  Even in retirement, he put priority on his vocation as a priest.
The other thing Canon Michael and Muriel never missed was worship on a Sunday morning or in the middle of the week. They were regular attendees at the Church of the Epiphany's Wednesday morning Eucharist and Bible Study, and the memory of that group is that Bible Study would often be delayed by Muriel's regaling of a ministry memory.  While clergy worried that both he and Muriel were becoming more frail and unsteady on their feet, and suggested they might remain home and have the Eucharist brought to them, Canon Michael and Muriel insisted on attending in person. Such was their devotion to our Lord that Canon Michael insisted on kneeling during the liturgy and at the communion rail.
Because of his and Muriel's failing health they moved closer to his son and daughter -in-law's home in Dorchester (London, Ontario). His final residence was in the Veteran's Care Program at the Parkwood Hospital.  I had the distinct pleasure of being able to visit Canon Michael and Muriel in January this year in London and to bless them. Chris and Gail devoted themselves to the care of their parents (in law) and as we mourn Canon Michael we now hold them and Muriel in our prayers. May they receive the comfort of the Holy Spirit in this time of loss and sorrow.
Just about everyone who knows Canon Michael and Muriel has a story to tell about the Hankinsons and their ministry in service of the church. A few of them are shared in this tribute; many will be told in the coming years as we continue to cherish the years we shared with them, the good we saw in them and the love we received from them . They were truly one in heart and mind and one only had to look at them holding hands and gazing at one another, Muriel still finishing Michael's sentences, to know that they lived their life together fully, and with no regrets.
Bishop Stephen Andrews (Bishop of Algoma from 2009 – 2016) offers these words of tribute and memory:
Fawna and I were saddened to hear of the death of Canon Michael Hankinson on 3rd September 2020. Most of us remember him during the time of his retirement, which, at 33 years, lasted nearly as long as his full-time ministry of 36 years. And what a ministry he had. From serving in First Nations communities in the Prairies to parishes in Garden River, Echo Bay, Blind River, Massey, Sudbury, Falconbridge and Garson, Michael and Muriel amassed an archive of pastoral adventures and entertaining anecdotes. These were usually relayed by Muriel, who had a gift for storytelling, while Michael would play the straight man, only interjecting when he thought Muriel had got carried away! We always left our visits with a heart-warming impression of their affection for each other, and with a fresh inspiration to serve the Church they so loved.
Indeed, it is Michael's dedication to the Church and his devotion to his Lord that will remain with me most strongly. Throughout his retirement, he rarely missed a diocesan synod or deanery function, and he regularly played a liturgical role at Church of the Epiphany where he was Honorary Assistant. I recall that in his frailer years he would still insist on kneeling for prayer, and we would have to put servers beside him to bring him to his feet if he needed. But such was his loyalty and piety. His commitment was quiet, persistent and sacrificial. May God raise up more saints like him.
In the meantime, our prayers go up for Muriel, and for Chris and Gail, who have been so loving and dutiful in their care. 'Our help is in the name of the Lord, who hath made heaven and earth.'      +Stephen
Like Canon Michael, I served at the Church of the Ascension in Sudbury and heard many stories of his time as their rector living in the rectory on Rinfret Street. Two of the members of the Ascension, Pippa Howard and Betty Bonas, share these memories of Canon Michael:
I was about 8 years old when I was first brought to church by a friend's family.  A kindly faced man was behind the altar and I was introduced to Father Hankinson.  Over the next number of years, I became a regular attendee at the Ascension and Father Hankinson taught me as I grew into my faith.  He prepared me for confirmation and, shortly after that, taught me to be a Server, a duty I still take on today with joy.  At the time, as a child and young teen, I did not recognize the strength of his love of God and his congregation but, looking back, I know that he was a cornerstone in my growth within my church and my own love of God.  I will remember this dear man with love always.  Pippa Howard
Father Michael and Muriel used to come and visit us many times over the years and my husband Ron would always ask him what his pleasure was and he would always say a rye and coke. We had many rye and coke over the years and many many great visits and memories. Father Michael was a wonderful man and servant of God and will be missed by many.   Betty Bonas
David White, a member of Christ Church in Lively offers these words of memory:
Father Michael was a good many things besides a devout and faithful servant. Who can forget his wonderful voice that added a touch of C of E to any liturgy he was involved in?
My favourite memory of him speaks of his keen wit and sense of humour.  I remember speaking to Father Michael at a function when he was in his early 90's. I remarked that as I aged and became acutely aware of all the pain and rigours involved, I had developed a huge amount of respect for people of his age.  I said, "I don't know how people of your age even get out of bed in the morning!" He looked me straight in the eye, with a little twinkle and an ever so slight grin and replied, "Years of practice."
Archdeacon Glen Miller (Sudbury-Manitoulin Deanery) shares his memory:
I first met Father Michael on paper in 1992. I had been appointed as the Deacon in Charge of the congregation of St. Saviour's in Blind River and Father Michael's name appeared in the history of that congregation.  Stories of Michael and Muriel were part of the fabric of that place and I found his footprints helpful to follow.  I finally met him at a Synod gathering and we saw one another from time to time. The next significant meeting took place after I had been appointed as the Incumbent for Christ Church in Lively. Father Michael had been serving that congregation as the Honourary Assistant and so we met as colleagues in ministry and once again I was following in his footsteps.  In 2004, I was given the responsibility over the congregation of St. Mark's in Garson as well as Christ Church and once again found Father Michael's name and stories in this history of a congregation. In fact, Father Michael's home was not far from St. Mark's and so we shared ministry once again and his footsteps were helpful. I give thanks to God for the gentle and wise example of caring ministry that I saw in the work of Michael Hankinson – a true shepherd of the sheep to which he was given care.
Yvonne and Winston Hardacre (Christ Church Lively) share these memories:
We met Michael when he became honourary assistant here at Christ Anglican Church in Lively. His sermons were always heartfelt. Michael was a true "old world" gentleman who preached the word of God with conviction and sincerity. Michael, with Muriel, quickly became dear friends and a valued part of our extended family. At our dinner table he always enjoyed songs and stories of earlier days, his quiet chuckle joining the gales of laughter.  Michael was always a gracious host when we visited his home or apartment. Michael officiated at our 25th wedding anniversary renewal of vows ceremony which meant the world to us. We are so blessed to have known him as both parish priest and family friend. We have many treasured memories.
A small funeral service for the Rev. Canon Michael Hankinson will be held at St. Paul's Cathedral in London on Saturday September 12th at 11am. The Rev. Lyn Fisher, a former priest from Algoma who has been visiting Canon Michael and Muriel, will preside at this celebration. At a later date, a Memorial Service will be held in Sudbury, to which friends and former parishioners of Canon Michael will be invited.
Cards may be sent to Muriel, Chris and Gail Hankinson at 43 Mill Road, Dorchester, ON  N0L 1G2
The family have requested that no flowers be sent at this time, but rather that people are encouraged to make a donation in Canon Michael's memory to the Hankinson Bursary (make cheques payable to the Diocese of Algoma: memo line Hankinson), or to the Anglican Church of your choosing.
When Canon Michael and Muriel Hankinson celebrated their 60th Anniversary in 2015 a celebratory dinner was held for them at the Church of the Ascension. A number of people made speeches and toasted and roasted the couple whose love we were celebrating. When everyone had spoken, including Muriel, Canon Michael rose to his feet to give a closing speech. Colin Germond remembers it very well.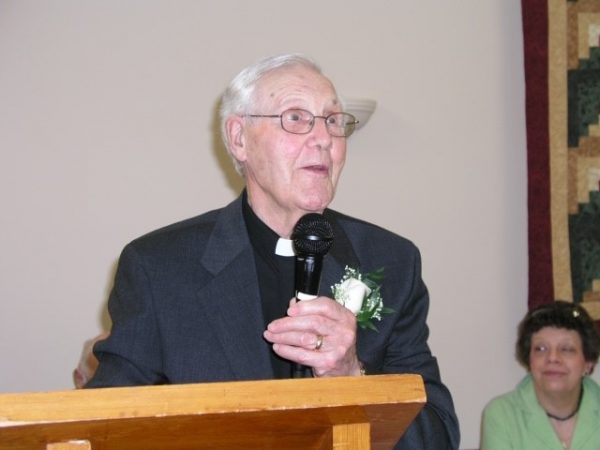 "Thank you." That was all he said, and then he sat down.
Now, as we remember this humble man of God, a true servant of the church, one not given to flowery speech, those two words, expressing our gratitude for his love and service, seem to be a most fitting tribute.
'Thank you', Canon Michael, for proclaiming by word and deed the gospel of Jesus Christ.
'Thank you' for caring alike for young and old, strong and weak, rich and poor.
'Thank you' for nourishing Christ's people from the riches of his grace and for strengthening them to glorify God in this life and in the life to come.
May you rest in peace and rise again in glory.
+Anne: Algoma
Some special moments in our memories of Canon Michael and Muriel