Church of the Epiphany news!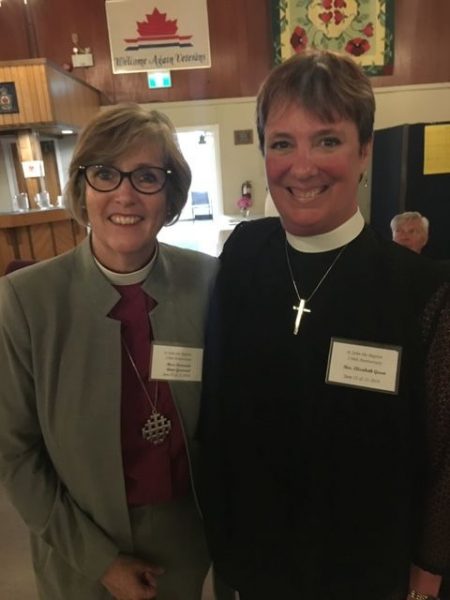 The Rev. Dr. Elizabeth Green with +Anne
Archbishop Anne Germond is pleased to announce the appointment of the Rev. Dr. Elizabeth Green as Incumbent of Church of the Epiphany, Sudbury, commencing July 15, 2020.
Rev. Elizabeth is currently an Incumbent in the Diocese of Toronto at All Saints' Anglican Church in King City.
By way of introduction, below is part of the letter +Anne prepared for the parish yesterday.
"In June 2019, in my capacity as Metropolitan, I was invited to a 150th anniversary celebration of St. John's parish in Lyn, Ontario. This was the parish where Rev. Green was baptized and, as part of their celebrations, she proclaimed the gospel as a storyteller. It was beautifully done and, following the service, I had the pleasure of chatting with her and her husband, Kevin. I found her to be a person of joy and boundless energy but, also, an individual who is thoughtful and takes her vocation very seriously."
In responding to the profile prepared by Church of the Epiphany, Rev. Elizabeth expressed in an e-mail to Archbishop Anne that she felt a call to head north and was hopeful that she and the parish would find a mutual fit.
"My conversation with Rev. Elizabeth, in which I offered her the position as the new Incumbent of the Church of the Epiphany, was received with vibrancy, excitement and a deep, heartfelt thank you to us and to God for the opportunity to serve in Algoma!"
Rev. Elizabeth has a B.A. with a major in Aboriginal Studies from the University of Toronto; an M.Div. (Honours) from Trinity College (Toronto); and a D.Min. from United Theological Seminary in Dayton, Ohio. She is, also, an active member of both Canadian and International Networks of Biblical Storytellers.
We welcome Elizabeth and her husband, Kevin, to Algoma and uphold them and Church of the Epiphany in prayer as they prepare to commence ministry together.
In the midst of this strange new world, we are thankful for the ways God is always leading us and allowing us to share such wonderful news!